Contrarian Letter #5
Philanthropy, Death, Industry Secrets, WhatsApp, Books, & The Slice
Hello Everyone,
I hope you're all doing well and are staying safe.
💰 Thoughts On Money
I have always wondered, rather been asked questions about money like why do you not spend money when you earn so much or what would you do with your money. This a topic I've been very curious about for a very long time. I even wrote a small post sharing my thoughts on Why do you earn money?
While I have never written explicitly about the end use of your money for philanthropy, there are people who have done it and done it well. One of them is Chuck Feeney. He has given away almost $8 billion of his wealth during his lifetime while keeping only $2 million for himself and his wife.
Feeney is the founder of the Duty Free Shoppers - the duty free stores at airports. He never cared about money too much even when he had less of it. He transferred 38.4% stake in the Company to Atlantic Philanthropies in 1984 itself. No one knew about it for a long time.
In 2012, he said "I don't dislike money, but there's only so much money you can use".
He has lived a life of frugality. He always flew economy even after becoming a billionaire. He owned a car only once. A used jaguar. He wore a rubber casio watch and used to carry his magazines in plastic bags. He is someone who believes to give while he is living
"If you give while living, the money goes to work quickly, everyone gets to see the action and the results— that's what we're all about." He also said "I see little reason to delay giving when so much good can be achieved through supporting worthwhile causes. Besides, it's a lot more fun to give while you live than give while you're dead. "
Bill Gates and Warren Buffet have called Feeney their Hero. He inspired the billionaires of the world to sign the giving pledge -where they came forward to pledge more than half of their wealth the charity.
So what is it about money that we chase? All I know is that it shouldn't be chased for the wrong reasons. We may have a million or ten million dollars. But what we do with it makes all the difference.
Read more about him here and here.
🧬 Thoughts On Life
We only know the pain of losing someone when we lose our own people. I know the pain since I have seen more than five people pass away in the last few years in my immediate and extended family including my father.
I was recently reminded of this when someone wrote about the loss of his father at the age of 47 from Covid. Life is fragile. There is only so much you can do about it to prolong it. Lot of it depends on fate. While it's very hard to accept it and prepare yourself, I think contemplating death and reflecting on how we spend our time does make sense.
One way to prepare ourselves for death of our loved ones is to contemplate about it. Not just death, contemplate about everything you cannot control. You cannot control losing your job, or seeing the stock markets going down. Practice Premeditato Malorum (Premeditation of Evils). Read this interesting post from Vishal Khandelwal where he talks about it in detail.
🔍 Interesting Finds On The Web
Kevin Kelly shared a reddit thread titled "Industry secrets in the field you work in" I scrolled through it and found some really interesting facts -
"Former bath and body works associate here. The scents they "discontinue" will come back with a different name and new marketing. They're just recycling the scents."
Vodka is really, really, really cheap to make: the glass bottle costs more than the juice.
🐱‍💻 Life Hack
What is the best way you take notes on your phone? Create a single person whatsapp group. Easiest way to take notes.
📚 Books & Podcasts
I have been high on Derek Sivers. If you have ambitions of setting up your own business, listen to or read "Anything You Want". You must read it if you serve customers in any way. Also recommend Derek's podcast with Jeremy Goldberg.
Started reading Anupam Gupta's and Saurabh Mukherjee's "The Victory Project". Never knew that Professor Sanjay Bakshi (I really need to explore his blog) is an advocate of financial freedom. Apparently he talks about it in his classes. A lot of his students are dollar millionaires thanks to his love for frugality.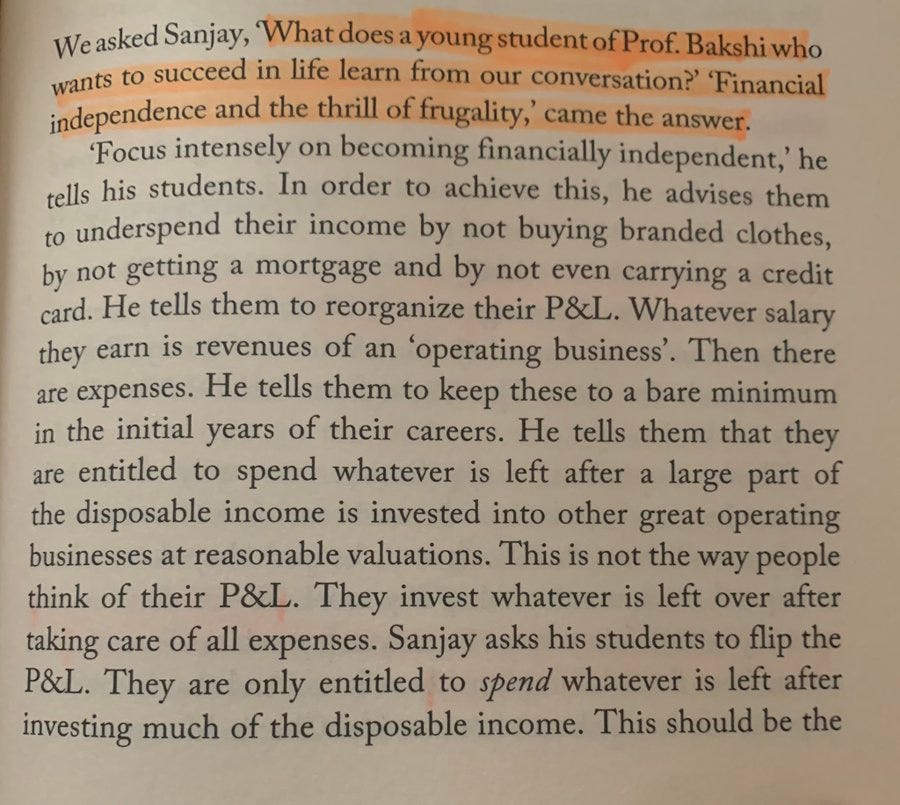 I would recommend downloading the recently released Almanack of Naval Ravikant complied by Eric Jorgenson. His ideas are worth learning about.
🔊 Shout-Out
Nic writes an amazing newsletter titled "The Slice" where he talks about emerging SaaS, hot podcasts, and other actionable resources to grow your projects. I am subscribed and I think you should too.
---
If you liked the letter, share it with your friends and ask them to sign up.
If you want to support my work, you could buy me a cup of coffee or one of my products.
If you disagree with me on anything or find anything complicated, shoot me a mail. I would love to hear your thoughts. Reach out on my email and we can discuss more.
Cheers 🥂